Hot Tub Moving Colorado Springs
Moving a hot tub can be overbearing for an individual without assistance. The average hot tub can weigh anywhere from 500-1,000 lbs. Moving a hot tub alone or without professional assistance can cause personal injury to the mover or internal or structural damage to the hot tub. Special precautions and equipment are necessary when moving a hot tub. Our professionals here at Hot Tub Repair Colorado Springs are knowledgeable in all aspects of the hot tub relocation process. 
Our team will come in and evaluate the area surrounding the hot tub to help develop a plan that enables us to move the hot tub while diminishing any possible risk of damage to any structure, objects or people in the immediate vicinity. We create a detailed moving plan specifically tailored to meet your moving needs. Our detailed moving plans help us designate the proper number of professionals to help facilitate your move. Our experienced movers come prepared with a truck fully stocked with the proper equipment necessary to move your hot tub or other specialty item. Should heavy machinery be required, our team is certified and experienced in its safe operation. 
Here at Hot Tub Repair Colorado Springs, we want to ensure that everything is done right from start to finish. Our professionals will assist with the draining process of the hot tub and unhooking all of your hot tub electrical connection. Once the move is complete, we will ensure that the hot tub is filled and once reconnected to its electrical outlets, that it is working properly and able to be used.
Hot Tub Repair Services Colorado Springs

Installation of your new hot tub requires a completely unobstructed route to ensure that the unit does not incur any damage along the way. Double check all gates and entrance-ways to ensure sufficient clearance. Determine ahead of time the route that the installer should take when your Jacuzzi Hot Tub arrives. Keep an eye out for objects that might hinder the delivery team in any way, and remove those obstacles in advance of the installer's arrival. Also inspect your yard for any overhanging branches, rain gutters, or protruding electrical or gas meters that might impede the installation process. Are there more than 6 consecutive stairs without a landing in your delivery route? If so, you must consult our Moving coordinator prior to delivery to make adequate preparations.
Trying to figure out how to get that Spa to the backyard That Costco dropped off in your driveway?
Thinking about buying a used spa – hot tub – jacuzzi and need to get it out of the backyard that its in and into your backyard, give us a call.
Have an Old Hot Tub that's taking up wanted space and collecting stagnant water? reclaim your backyard space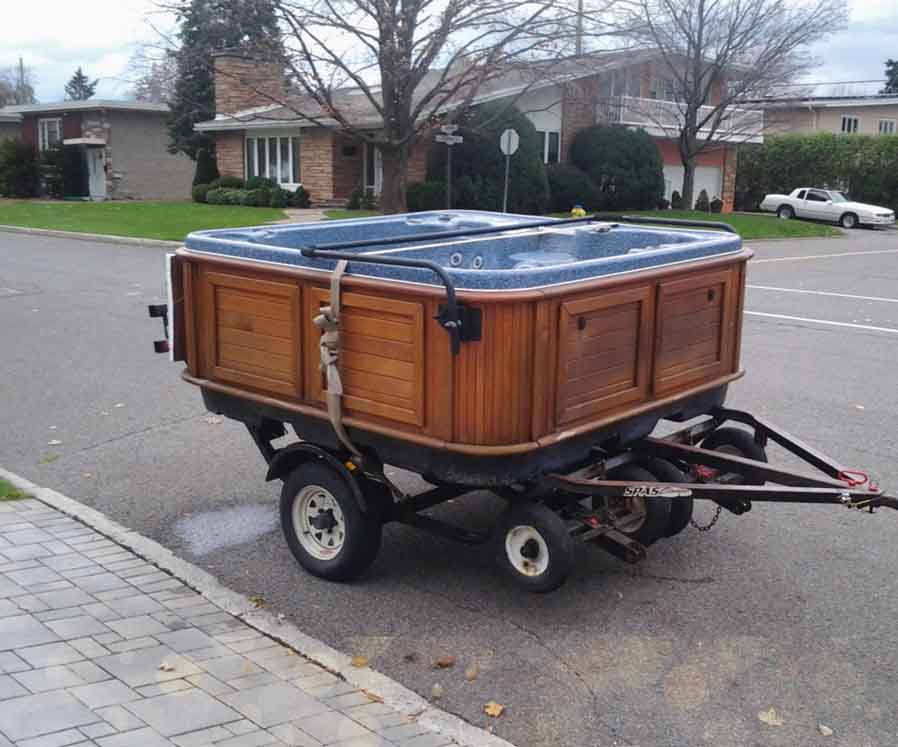 Site Selection and Preparation
You probably have a spot picked out for your Hot Tub, whether it's indoors or outdoors, on a patio or on a deck. Just make sure you check the following:
Always put your spa on a structurally sound, level surface. A filled hot tub can weigh a great deal. Make certain that the location you choose can support the weight of your filled spa.
Don't forget to level your spa before filling it.
Locate your equipment compartment, which houses all of the electrical components, in a place where water will drain away from it. Allowing water into the equipment compartment can damage the electronics, or may result in tripping your house's circuit breaker.
Leave yourself easy access to the circuit breakers in the subpanel (230 volt models), or to the interrupter switch on the end of the power cord (115 volt models).
Hot Tub Pre-Delivery Set Up
When planning your spa location keep these tips in mind:
Water should always drain away from the spa. DO NOT locate your spa in a low run-off area since melting snow or rain could flood the area and cause pump and equipment damage.
Allow a minimum of 3' (1m) access around the base of the spa in case your spa requires servicing.
Do not locate your spa underneath any overhanging wires and keep it clear of any electrical appliances.
Try to position your spa away from any overhanging trees as small debris (such as pine needles) can become lodged inside the jets, causing damage to the equipment.
Be sure to have a proper base created before delivery. Your spa must be placed on a flat, level surface and every part of the spa base must be in contact with the surface. 
Solid concrete, patio stones, concrete slabs, and well supported decks should be sufficient to support for your spa.
Find out how you can benefit from a hot tub. Contact our experts at Hot Tub Repair Colorado Springs today to learn more about our products and services.
Simply complete the form below and one of our representatives will be in touch with you shortly.